heat
---
please click this link for additional  EXTREME COLD WEATHER TIPS   
Emergency Winter Heating Tips
(4 minute video)

NO HEAT

or BLOWING COLD AIR?  
Please Check these first BEFORE submitting a repair request
Check Your Air Filter
– dirty air filter does not allow heat to get into your home
– replacing monthly with new air filter allows your furnace to heat your home and reduces your heating bill
Check ALL VENTS in Your Home
– make sure nothing is blocking the vents
– blocking these vents is the same as turning off your heat
Check Your Thermostat (examples shown below)
– Make sure it is set to HEAT
FAN SWITCH – make sure it is set to "'AUTO" or "ON"
AUTO, your fan will blow automatically when the furnace cycles on

remember, even in the AUTO mode, your fan will continue to run after the furnace has cycled off. this helps to cool off your furnace- it may blow cold air during this ending cycle.
ON it will run 100% of the time, blowing both warm air and cold air. it never shuts of

f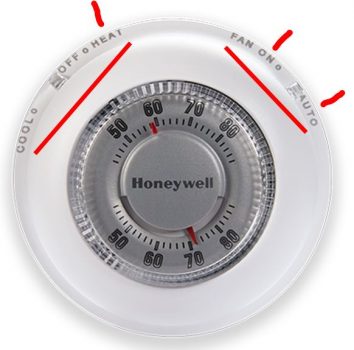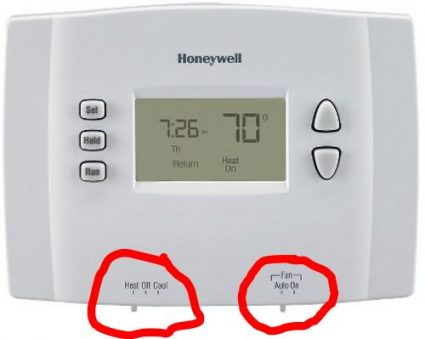 Still No Heat?

---
---
---
Severe Cold Weather Survival Checklist
Warm Up for Winter with Key Tips for Keeping Cold Weather Hazards at Bay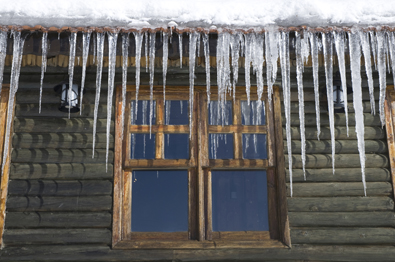 Cold weather is a fact of life. Much of North America periodically experiences severe and sustained cold weather, with snowfalls interspersed with periods of melting and freezing. And these extremes can inflict considerable damage on homes, as well as create other hazards.
Here are some steps you can take to keep your home safe and make insurance losses less likely during extended severe weather. 
Inside Your Home
Keep your home heated to a minimum of 65 degrees. The temperature inside the walls where the pipes are located is substantially colder than the walls themselves. A temperature lower than 65 degrees might not keep the inside walls from freezing.

Identify the location for the main water shutoff in your home. Find out how it works in case you have to use it.
WHEN EXTREME COLD TEMPERATURES hit – BELOW FREEZING – Open hot and cold faucets enough to let them drip slowly. Keeping water moving within the pipes will prevent freezing.
If you use fireplaces, wood stoves and electric heaters, watch them closely and make sure they are working properly.
Remember to close the flue in your fireplace when you're not using it.
When traveling, please log in to your account and notify our office and ask a neighbor to check the house regularly. If there is a problem with frozen pipes or water leakage, attending to it quickly could mean far less damage.
If you plan to be away for an extended period of time, please text or email our office with your travel dates to keep pipes from freezing or bursting.
Outside Your Home
STOCK UP NOW on ICE MELT – Do NOT use Rock Salt – it eats up your concrete steps, sidewalk and driveway.
SNOW Shovel is a Must – do NOT wait till it snows as all hardware stores ALWAYS SELL OUT of snow shovels when it snows
CRAWLSPACE

– if your home has a crawlspace, take some cardboard, cut it to fit the size of the crawlspace openings in your foundation and cram/push the cardboard in to cover up the vents to your crawlspace – remember to remove in the spring. This will help prevent your pipes from freezing by keeping cold weather from entering your crawlspace.
Keep sidewalks and entrances to your home free from snow and ice.
Watch for ice dams near gutter downspouts. Ice dams can cause water to build up and seep into your house. Clear gutters of leaves and debris to allow runoff from melting snow and ice to flow freely.
Make sure all hoses are disconnected from outside spigots.
If your garage is attached to your house, keep the garage doors closed. The door leading to the house is probably not as well-insulated as an exterior door.
If ice forms on tree limbs, watch for dead, damaged or dangerous branches that could break loose when stressed by ice, snow or wind and damage your house or car, or injure someone on or near your property.
A Worst-Case Scenario
If you discover that pipes are frozen, don't wait for them to burst. Take measures to thaw them immediately, or call a plumber for assistance.
If your pipes burst, first turn off the water and then mop up spills to avoid further damage.
Other Things to Know
Your Renters Insurance Policy will cover most kinds of damage that result from a freeze. For example, if your pipes freeze and burst or if ice forms in gutters and causes water to back up under roof shingles and seep into the house, You would also be covered if the weight of snow or ice damages your home.
However, most policies do not cover backups in sewers and drains or flood damage, which can also happen in winter. 
If your home suffers water damage, it is important to make sure that it is properly dried and repaired to prevent any potential problem with mold.
Remember, mold cannot survive without moisture. Mold is a short word for a "water/moisture problem."